With farmers starting to embrace renewable technology, UK agri-tech has an important role to play to reach net zero.
The UK Government has set 2050 as its net zero deadline however the National Farmers Union (NFU) is aiming for 2040 by encouraging landowners and managers to improve productive efficiency, land management and changing land use to capture more carbon. The simplistic way of putting it is that farmers need to produce the same quantity and quality of food, or more, with less inputs, in smarter ways. Thankfully, UK farmers seem to be on board!
Earlier this year, finance company Propel surveyed farmers across the country and the findings were very positive. More than three quarters of those surveyed (76%) are now exploring the use of high-tech equipment on their farms with renewable energy technology being the third most popular purchase, after tractors and trailers. Despite Brexit and Covid implications, 75% of farmers are looking to acquire assets in the next 12 months. That is very good news for companies developing technology for the agriculture market.
Farms and agriculture that embrace this new agri-tech are seeing significant benefits which are then passed on to the environment. The benefits for businesses include better efficiency, reduced prices, and sustainability. The environment benefits from reduced consumption of water, nutrients, and fertilizer, reduced negative impact on the surrounding ecosystem, reduced chemical runoff into local groundwater and rivers. These new technologies are changing the face of the farming and agriculture industry, creating exciting opportunities for those willing to adapt.
The UK has seen a number of high profile agri-tech investments that will play a key role in helping the UK meet its carbon neutral targets. The development of a £15m 'net zero farming centre' in North Wales is on track to be completed by September 2023. The 15-year initiative will pioneer new technologies in digital and precision agriculture and renewable energy. Plans to build a two-million-pound Digital Innovation Farm Tech Box Park have been revealed by Hartpury University and Hartpury College to expand its range of agriculture facilities focusing on new technology in farming. Speaking on the new development, Russell Marchant, vice-chancellor of the university said: 'This new ground-breaking facility will combine our commercial farm and strong industry connections with agri-technology companies to address the inevitable challenges of a robotic future.'
With demand, investment and research and development in this sector rapidly growing, now is a great time to highlight the UK agri-tech companies who are part of the solution.
Small Robot Company's weeding robot: Dick
Dick the robot is claimed to be the world's first non-chemical robotic weeding system for cereal crops. The innovation is designed to destroy weeds at an individual plant level using high voltage electricity. Using advances in robotics, imaging and artificial intelligence the system offers a new approach to low impact farming hoping to replace the high impact, herbicide-dependent methods that dominate modern farming
Find out more about Small Robot Company here – https://www.smallrobotcompany.com
Crover – Grain Storage Monitoring
The Crover is the world's first granular drone, a robotic device capable of navigating in granular bulks. This impressive machine can fluently "swim" in stored grains, monitoring their conditions and reducing losses due to spoilage, as well as avoiding a drop in quality of crops. This allows the agricultural industry to reduce losses during the long-term storage of cereal grains. Empowering producers and grain storage site owners to maintain the quality of their stocks, reduce food scarcity worldwide and lead to a more eco-friendly production chain.
Find out more about Crover here – https://www.crover.tech
Innovation Agri-Tech Group – Indoor vertical farming technology
Using pioneering patented UK indoor vertical farming technology, Innovation Agri-Tech Group are committed to revolutionising farming for the 21st century. Showcasing their patented systems at their state-of-the-art 10,000 square foot, fully controlled, purpose built aeroponics facility in Berkshire. It has the capacity to grow as much fresh produce as 40 acres of conventional farmland, making it around 175 times as productive as open field farming. This technology helps agriculture companies expand their vertical farming systems or build new vertical farms from scratch.
According to their website: Intelligent Farming utilises the latest technology advances to grow plants indoors under strictly controlled conditions, eliminating the need for sunlight and soil and maintaining plant growing conditions at optimum conditions 24/7, 365 days of the year. We use LED lights with specific wavelengths which can target each different crop and growth stage. Nutrients, water, temperature, humidity and acidity are all carefully calibrated to optimise growth – resulting in crops that are much stronger, healthier and grow much more quickly compared to crops grown using conventional farming methods.
Find out more about Innovation Agri-Tech Group here – https://iagri.tech/agri-tech-opportunity
Rhiza – Advanced satellite imaging and analysis
From satellite to soil to seed to crop. Rhiza is helping arable and livestock farmers achieve the optimum yield from every field. Their technology uses advanced satellite imaging and analysis to manage every square meter, allowing farmers to make smarter, data driven decisions. Rhiza's Contour web interface and app includes hyper local weather data, soil brightness mapping, biomass, pest and disease modelling, growth stage prediction and yield protection. It is already in use on over 500,000 hectares in the UK alone, and over 1,000,000 across Europe and Africa.
https://www.youtube.com/watch?v=sn-asM7mDkI
Find out more about Rhiza here – https://www.rhizadigital.co.uk
Agrii – Soil Moisture Monitoring
Agrii's soil monitoring technology offers multi-depth soil moisture information which enables more efficient use of water and helps to optimise the yield and quality of crops. According to their website: Soil moisture probes and rain gauges are fitted with a telemetry unit that uses a SIM card to deliver the data into the cloud. The probes provide site specific soil moisture information in near real-time at 10cm levels through the profile.
Find out more about Agrii here – https://www.agrii.co.uk/products-services/soil-moisture-monitoring/
Falco Drone Technologies – Hover Bird
This bird-like drone could be a game-changer for farmers – it mimics bird flight making drone technology more usable for farmers in remote and windswept landscapes. Patrick Maletz, founder of Falco Drone Technologies says: "The benefit is that you can hover over a target, like an animal, and come in for closer inspection. Drones are also really useful for early detection of pests and diseases in crops, and like most drones, Hover Bird can be fitted with multi-spectrum cameras to aid this."
Find out more about Falco Drone Technologies here – https://www.aticornwallinnovation.co.uk/story/falco-drone-technologies-ltd/
Munro Mark 1
Farmers eager to ditch their diesel run-around for an electric alternative finally have the prospect of something that is sensibly priced and fit for work. Munro Mark 1 is a fully electric 4×4 designed and built in the UK with 215 horsepower and 150 miles range. With permanent 4×4, rapid charging in 30 minutes and a 1000 kg payload this vehicle is perfect for commercial applications.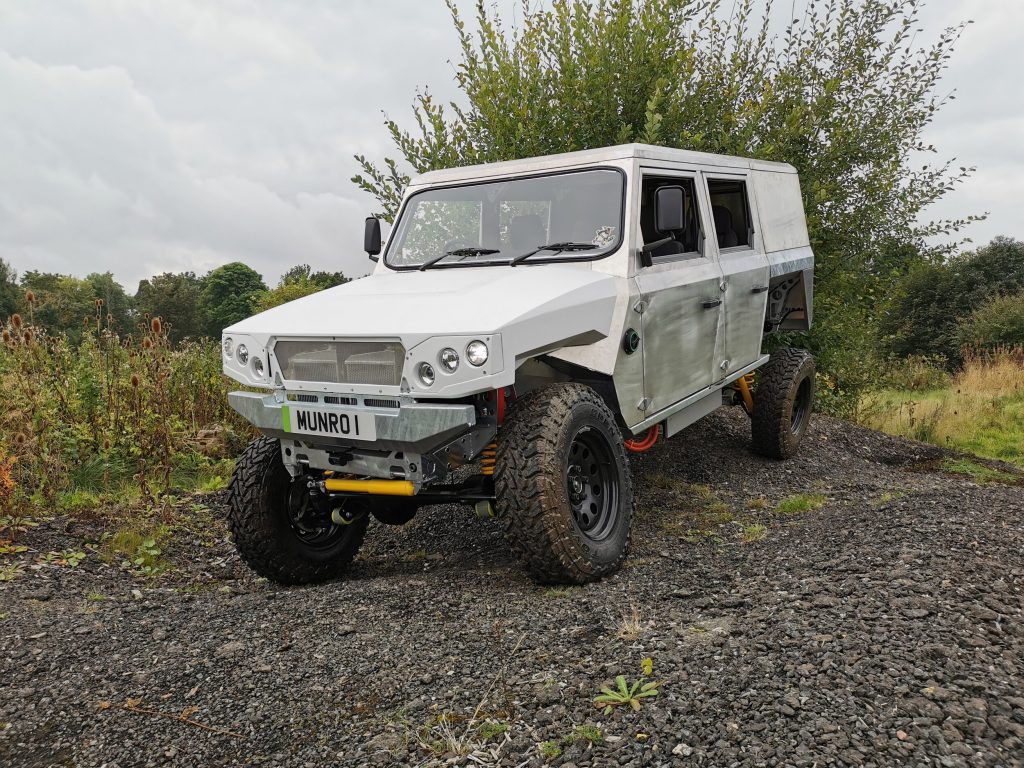 Find out more about Munro Mark 1 here – https://www.munro-ev.com
If you want to dive deeper into more UK agri-tech then the Countryside COP programme takes place next week from 11-15 October. Opportunities to help farmers reach the industry's net-zero by 2040 goal will be showcased, along with the contribution already being made to reach it.
---
As UK:E is primarily a contract manufacturer, we have extensive experience of supporting clients who are looking to get their products to the market. In addition to our core electronics manufacturing business, we have an array of services to support Research and development – helping our clients to realise their designs early.
We have a state-of-the-art manufacturing facility and are able to quote for a variety of work – from low volume specialist instruments to large volume consumer applications.
If you require any other aspects of our manufacturing or R&D services, then please speak with a member of our sales team: sales@ukelectronics.co.uk