In preparation of the UK leaving the EU product manufacturers must get to grips with the UKCA (UK Conformity Assessed) mark; a new UK product marking regulation to be used in place of the CE mark for goods being placed on the UK market.
As the Brexit transition period nears its end, manufacturers are working to get measures in place in preparation. It's a complicated time with many moving parts however a major change that manufacturers must be aware of is that starting January 1, 2021, UKCA will be the conformity assessment marking for goods entering the UK market that are currently subject to CE marking. Thankfully, there will be a year's grace period to allow time for adjustments to the new requirements as businesses will still be able to use the CE marking until January 1, 2022.
The UKCA mark explained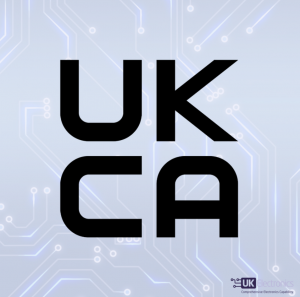 The UKCA (UK Conformity Assessed) mark will be the new product mark to confirm that health, safety and environmental regulations and standards are met on a relevant product. It will replace the CE marking regime that is currently used for certain goods placed on the market in Great Britain (England, Wales and Scotland – but not Northern Ireland). A separate regime will exist for Northern Ireland, which will continue to require CE marking or a new UK(NI) mark. The UK Government has promised to publish guidance on this soon.
What products does the UKCA mark apply to?

It covers most goods which previously required CE marking; electrical items, toys, PPE, radio equipment are amongst the products included and it will also include the new addition of aerosol products. A full list of products that will require the UKCA mark can be found in the guidance. A list of relevant UK legislation that currently requires CE marking can be found here.

Using the UKCA Mark

From January 1, 2021 businesses can apply the UKCA marking to their product or to the packaging. Initial advice suggests that in some cases, it may be placed on the manuals or on other supporting literature however this will vary depending on the specific regulations that apply to the product.

UK Declaration of Conformity
A UK Declaration of Conformity will be needed for most products lawfully bearing a UKCA marking. The information required will largely be the same as what is currently required on an EU Declaration of Conformity. On 1 January 2021, the UK standards used to assess products in order to award a UK Declaration of Conformity will be the same as the EU standards.

Continuing use of the CE Mark
 The CE marking will be accepted in the UK until January 1, 2022 for some products such as those with certificates of conformity issued by an EU-recognised Notified Body or pre-existing stock.
Businesses will be able to use the CE marking until December 31, 2021 if any of the following apply:
• The business currently applies the CE marking to their goods on the basis of self-declaration
• Any mandatory third-party conformity assessment was carried out by an EU-recognised Notified Body (including a body in a country with which the EU has a relevant mutual recognition agreement)
• The certificate of conformity previously held by a UK Notified Body has been transferred to an EU-recognised Notified Body
 The above would apply to our customers where we build the finished product for them.


Medical Devices
Medical device products are covered by the UKCA marking but have some special rules. The UKCA mark will run in parallel to the CE mark scheme for two years. Manufacturers are able to use the new UKCA mark from 1 January 2021. However, the MHRA will continue to recognise medical devices that have been approved for the EU market, and CE-marked, until 30 June 2023, including devices placed on the market under the EU MDR or EU IVDR. The UKCA mark will not be recognised in the EU; a CE mark will still be needed for those markets. For Northern Ireland, different rules will apply to those in Great Britain after the transition period. For more information on the regulatory system for medical devices in Northern Ireland, please see 'Regulation of medical devices in Northern Ireland'.
The UK Medicines and Healthcare Products Regulatory Agency (MHRA) has published guidance (the Guidance) on new rules that will govern the regulation of medical devices after the end of the transition period.

Interoperability Constituents

Our rail customers will need to be aware that from 1 January 2021, the placing of interoperability constituents on the market in Great Britain will be based on a UK conformity assessment process, requiring compliance with applicable UK National Technical Specification Notices (NTSNs). Where applicable requirements in NTSNs are identical to those contained in EU Technical Specifications for Interoperability (TSIs), an interoperability constituent can continue to be placed on the market with EC conformity assessment documentation against the relevant TSI requirements. Legislation will be amended to limit this period of recognition to 1 January 2023 in Great Britain. Further information will be provided separately in relation to Northern Ireland.
It is currently expected that an interoperability constituent placed on the EU market up to 31 December 2020 with a certificate of conformity from a UK notified body will be able to be used within the EU for the period of validity of that certificate in subsystems or vehicles authorised before 1 January 2021.
Our Advice
As an electronics manufacturer that supplies market ready products to many UK businesses, we will no doubt be assisting our customers with this change over the coming months and year. We are keeping up to date with the changing legislation as it is released to gain a good understanding for ourselves and our customers. Our advice for now is to speak to your solicitor or trade association if you are unsure which regulatory framework applies to your goods. Official advice suggests that businesses should be ready to use the UKCA marking from 1st January 2022 at the latest, although they should look to use the UKCA marking as soon as possible.
You can view the latest Government update here.